Cape Haze Quilting

Fine Thread Designs
Quilting Services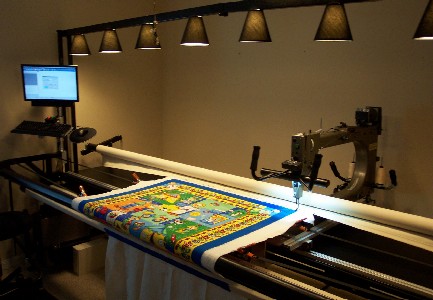 We are quilting specialists, offering exceptional long arm quilting on our Gammill Optimum Plus Statler stitcher. Our Creative Studio software gives us the ability to resize, rotate or manipulate any of the patterns to enhance the beauty of your quilt. With hundreds of patterns to choose from and many colors of thread the possibilities are limited only by your imagination.
Traditionally, quilt piecing was a project for the Fall, a pleasant switch to sewing after many weeks of canning vegetables and making jelly. Winter heralded in the time for quilting, and no quilter wanted to be without a top to quilt during the 'indoor months'. Since it takes much less time to piece than it does to quilt, there are many unquilted tops in steamer trunks, cedar chests, bureau drawers, and closet shelves that never made it to quilt frames.
Our computerized quilting machine is available to transform your unquilted tops into cherished family heirlooms. We offer a variety of long arm quilting services ranging from custom patterns to basting a quilt in preparation for hand quilting.
Our goal is to complete your quilt tops quickly - we can get most edge-to-edge designs done within two weeks; custom quilting may take a few more days.
We have an extensive collection of over 1000 Digitized Patterns and are always willing to expand the collection. If we do not have a pattern in our collection that works for you and your quilt top, we would be happy to consider purchasing a pattern that does suit you.
Trapunto Method:
Trapunto quilting, also called stuffed technique, is a quilting technique that is quite decorative in that is utilized 2 layers of padding in certain areas of the quilt. This produces a raised surface, or relief, on the quilt. This adds texture and dimension to your quilting. It's a very elegant look! We do this by using a high loft batting with the quilt top, then stitching around a selected design. The quilt top is then removed from the quilting machine and the excess batting is hand trimmed away. Quilt top is remounted with a lower loft batting of your choice and the backing. Small meandering around the design creates a wonderful "relief" finish, a good idea when the desire is to highlight particular designs. Pricing for this service will be determined after viewing your quilt top. You will be given an estimate for your approval prior to the beginning of any work.
Label you quilt How about an embroidered label on your next special quilt? See "Finishing Touches" for more information.
Note: All quilts will be trimmed to 3/4 inch unless otherwise requested.